JIMMY
RUSSELL

ABOUT JIMMY
He learned from the greats and inspired the next generation, but Jimmy Russell's distinctive and decorated career can't really be stated so simply. His tireless dedication to the bourbon craft, mastery of time-honored secrets, and widespread contributions to bourbon-making process has not only defined Wild Turkey, it's helped shape an entire industry.
ACHIEVEMENTS
• 60-year Whiskey veteran, longest-tenured, active Master Distiller in the global spirits industry
• Creator of Rare Breed, Kentucky Spirit and Co-Creator of Russell's Reserve
• Kentucky Bourbon Hall of Fame™ member
• Whiskey Hall of Fame member
• Lifetime honorary member for the Kentucky Distillers' Association
• Whiskey judge for the International Wine and Spirits Competition
• Anointed a Kentucky Colonel by three standing Commonwealth of Kentucky Govenors
THE MAN BEHIND
THE BOURBON
How one man's spirit inspired a legend.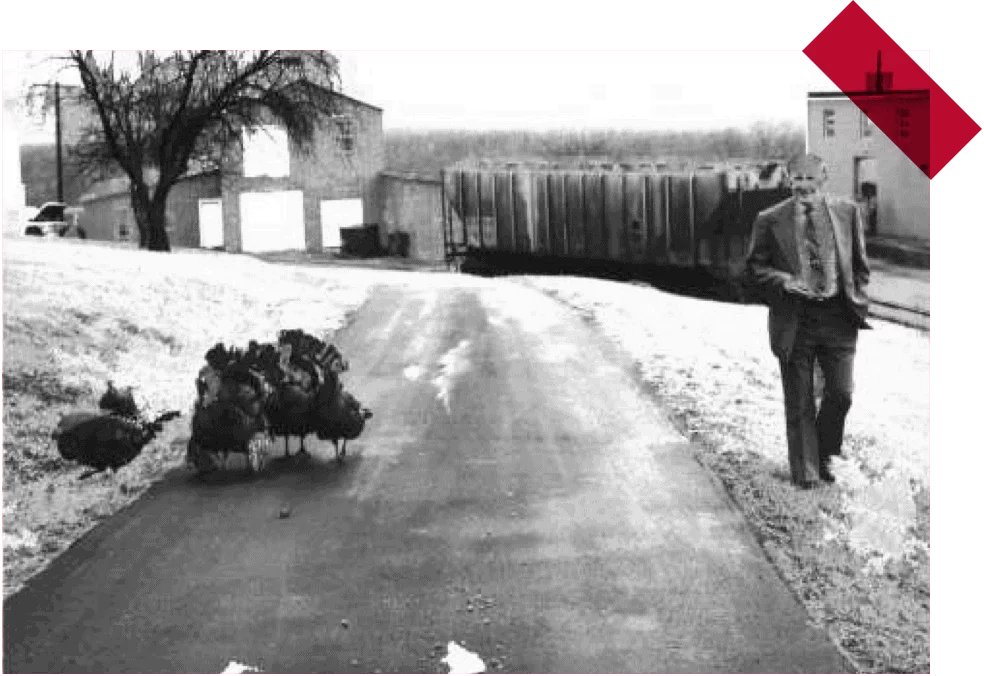 Dubbed the "Buddha of Bourbon" and "The Master Distiller's Master Distiller" by his industry peers, James C. "Jimmy" Russell knows bourbon like he knows breathing. For an astounding 60+ years, Russell has been making whiskey at the Wild Turkey Distillery in Lawrenceburg, Kentucky, and is currently the longest-tenured, active Master Distiller in the world. Growing up five miles from the distillery, he followed his father, who taught him the traditions and techniques of bourbon craftsmanship. From his first position at the distillery sweeping floors Jimmy learned early on that there was no job too small, and no task too tedious, when it comes to making bourbon the right way.
Jimmy's passion for bourbon led him to study under such whiskey luminaries as Bill Hughes, Wild Turkey's second Master Distiller, and Ernest W. Ripy, Jr., great-grandson of distillery founder James Ripy, Wild Turkey's third Master Distiller. And if his unparalleled tutelage wasn't enough, his family history and impeccable knowledge of bourbon carried him to the apex of his career as Master Distiller himself in the 1960's. Today a part of an exclusive Kentucky bourbon brotherhood, Jimmy is a member of the Kentucky Bourbon Hall of Fame™ and a whiskey judge for the International Wine and Spirits Competition. To this day, he is involved through the entire distillation and aging process of Wild Turkey Bourbon; his experience, wisdom, and closely held, time-honored bourbon-making secrets have solidified his glowing reputation and shine through in every single bottle.
…LEARNING HOW TO MAKE BOURBON THE RIGHT WAY— FROM THE INSIDE OUT AND EVERYTHING IN BETWEEN. NO JOB TOO SMALL, NO TASK TOO TEDIOUS.
Over the past 60 years, Jimmy has been responsible for the launches of a number of new Wild Turkey expressions, including but not limited to Tradition, Tribute, Rare Breed, American Spirit, Kentucky Spirit and Russell's Reserve, which he co-created with his son and distilling partner Eddie Russell. Jimmy broke new ground in 1976 with the first honeyed Bourbon, at the time called Wild Turkey Liqueur. Today, fans know the evolution of that product as American Honey. Jimmy is also responsible for making sure the legacy of Wild Turkey stays intact; overseeing the production of Wild Turkey 101, Wild Turkey's flagship brand.
In celebration of Jimmy's 60+ years of service, the Wild Turkey global family decreed 2014 "The Year of Jimmy Russell," marked by a series of honors and accolades from family, local and national politicians, and distinguished members of the Bourbon industry. Most notably, Kentucky Senator Mitch McConnell cemented Jimmy's achievements for posterity in the United States Congressional Record, while Kentucky Senator Julian Carroll and Representative Kim King sponsored a similar resolution in the Kentucky General Assembly. Furthermore, Jimmy was granted a Lifetime Honorary Membership to the Kentucky Distillers' Association's Board of Directors, an honor bestowed to only five other individuals within the organization's storied 134-year history.
As special as these honors have been, the most personal recognition came from Jimmy's son and fellow Bourbon Hall of Famer Eddie Russell. As an homage to his father, Eddie created Wild Turkey Diamond Anniversary, an outstanding limited-edition expression of 13- and 16-year-old whiskies. On the rare occasions that Jimmy is not at the distillery or on the road waxing poetic about the importance of proper aging techniques and grain selection, you can find him enjoying his beloved bourbon neat or with a touch of branch water, or at home with his wife Joretta, whom he met before he started working at Wild Turkey. They have three children – Eddie, Mike and Kathy; six grandchildren; and one great grandchild. A true Kentuckian and avid sports fan, Jimmy is a lifelong supporter of local Anderson County High School athletic programs for girls and boys.