HOW WE MAKE WILD TURKEY BOURBON WHISKEY
How we do, what we do — and where we do it — are equally important when it comes to making bourbon. Our master distillers have over a century of experience making Kentucky Straight Bourbon the right way, The Wild Turkey way.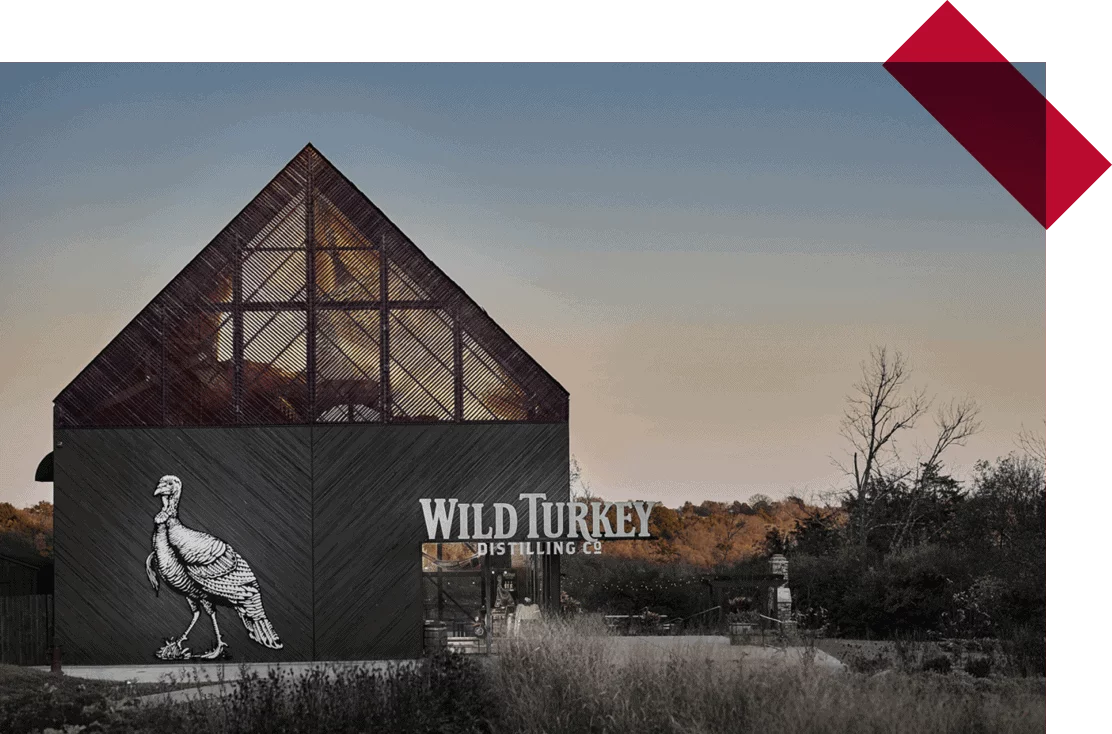 OUR DISTILLERY
For over 75 years, we've been making our whiskey at the top of Wild Turkey Hill in Lawrenceburg, Kentucky. It's where spirited tradition and devotion to our craft come together to yield an unparalleled lineup of bourbon and rye.
OUR WILD TURKEY ESSENTIALS
OUR BOURBON MAKING PROCESS
Bourbon takes time, and with almost a century of combined experience, our Master Distillers know that better than anyone.
HANDLING AND MILLING
It starts when the Master Distiller selects the corn, rye and malted barley for distilling. We use only the best ingredients at the Wild Turkey Distillery – nothing but our specially grown, non-GMO grains, which are quality tested at four separate times.
MASHING
AND MALTING
They say location is everything, and Wild Turkey distillery proudly sits atop a limestone shelf situation along the Kentucky River, allowing us to use quality Kentucky water straight from the source. The limestone naturally purifies the water of iron, and this non-acidic, limestone-filtered water is used to cook the grains during this stage, making for a better depth of flavor in our finished product. Once the malted barley is added, we introduce our sour mash – a previously fermented mash that still contains live yeast – to start a new fermentation process.
FERMENTING
Yeast is added to the corn, rye and malted barley to create our yeast mash, naturally turning the starch into sugar, and giving Wild Turkey its full, rich flavor. Our yeast strain is unique to Wild Turkey, and a secret that is closely guarded by Master Distillers Jimmy and Eddie Russell.
DISTILLING
The liquid mash is pumped into a continuous still. It's vaporized at a high temperature, turned back into liquid, and distilled all over again, creating the highest quality spirit without sacrificing flavor.
BARREL FILLING
After distillation, the spirit is poured into new American White Oak barrels with the deepest No. 4 "alligator" char. We choose to barrel our bourbon at a lower proof, so that by the time it's finished aging we can add less water than other whiskey makers typically would in order to avoid diluting our bourbon's signature flavor before bottling. That allows Wild Turkey to retain the true, rich flavor and deep auburn color it acquires from the barrel.
BARREL AGING
Once the barrels are filled, they're stored for aging. Starting at two years, we taste our bourbon annually until its fully matured. We age our whiskey longer than most distilleries, giving it more of the time it needs to develop its distinctive, rich flavor.
BOTTLING
Only the master distiller can decide when a barrel is mature enough for bottling. On their command, the bourbon is dumped, filtered and bottled, ready for you to enjoy.
TASTING NOTES
For a complete start to finish Wild Turkey tasting experience, it comes down to these four qualities.