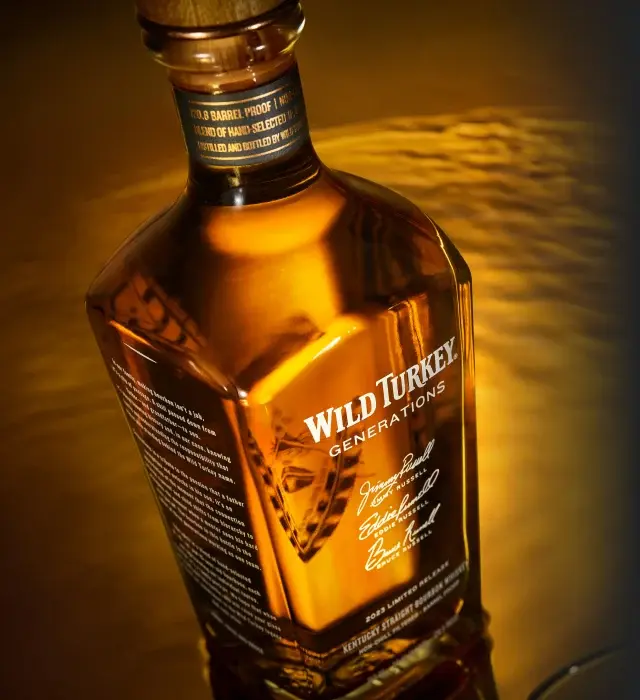 WILD TURKEY GENERATIONS
Wild Turkey® Generations marks the first time Jimmy, Eddie and Bruce Russell have collaborated on a single whiskey; the result is a combination of 9-, 12-, 14- and 15-year-old bourbons, harmoniously blended to create a one-of-a-kind whiskey with layers of complexity.  Wild Turkey Generations is bottled at barrel proof (120.8 proof) and non-chill filtered to reveal the utmost character in each sip, a true reflection of the Russell family's bourbon making mastery.     
Please remember to save your engraving message by clicking "SAVE" in the bottom right corner of the message field.
Insert shipping address to see availability
Campari is not a licensed beverage alcohol retailer. All alcohol retailers are sold and shipped by licensed retailers on the reservebar.com network. Please drink responsibly.
Description
Wild Turkey Generations is a harmonious high-proof blend of 9,-12,-14 and 15-year-old bourbons, marking the first collaboration between Jimmy, Eddie and Bruce Russell on a single whiskey.
Delivery information
We accept



Need help with your order?
Contact Reserve Bar Customer Support help@reservebar.com
Delivery is available in: AZ, CA, CO, CT, DE, DC, FL, IA, IL, IN, KY, LA, MD, ME, MN, MO, MT, NC, ND, NE, NH, NJ, NM, NY, NH, NV, OK, PA, RI, SC, SD, TX, VA, WA, WI, WV, WY
Reserve Bar Terms and Conditions
ONE FOR THE
GENERATIONS
Wild Turkey Generations marks the first time three generations of the Russell family have collaborated on a single whiskey, blending storied past with compelling present to honor the family's remarkable legacy. With over 100 years of combined experience between Wild Turkey Master Distillers Jimmy Russell, Eddie Russell and Associate Blender Bruce Russell, this bourbon is a blend of hand-selected barrels unique to each of their tastes.
Bruce, like his grandfather Jimmy, prefers bold bourbon flavors, which comes through in the 12-year bourbon he selected for the blend. Meanwhile, Eddie has a penchant for a softer honeyed, vanilla-laden flavor that typically comes from older bourbons, such as his 15-year-old selection, and the 14-year-old whiskey he and Bruce picked together. Jimmy stayed true to his palate, as he has for decades, by selecting a nine-year-old bourbon consistent with the classic Wild Turkey profile.
TASTING NOTES
Generations showcases sweet notes of vanilla, caramel and dark cherry that give way to warm notes of pepper and aged oak. An aroma of oak and vanilla is followed by floral and spice notes with hints of baked apple, toffee and cloves. The unique combination of aromas and flavors caps off with a finish of dark fruit and baking spice with lingering notes of sweet toffee and oak.